Good Places for Sand Castles
Some special locations just beg to be bedecked with a sand sculpture. Logistics and other details might interfere with the building of the actual sand sculpture, but with the wonder of digital photography and a little photoshop magic - we can put virtual sand sculpture pretty much anywhere.
Consider this an invitation to all you photoshop junkie SoBs - send me your "good place for a sand suclpture" creation - and you could win a Sand Castle Days '98 T-shirt or a copy of the new SoB Sand Castle book.
Attach your 72 ppi jpegs to an e-mail and ship it off to feet@unlitter.com - thanks!
Fine print: by sending me your artwork you are giving me permission to post it on my web-site, though I will of course credit you with your work. Feel free to steal a sandyfeet or SoB sculpture for your creation, but please ask permission to use the photos of any other sculptors you find on our pages.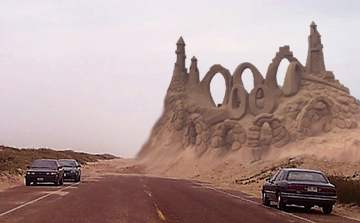 The "end of the road" sand dune, south Padre Island, TX. Sculpture by the SoBs, photo creation by sandy feet, 1999