"Sandcastle: Click Here"
by sandy feet - 9/96
Winner of Best Hand-Stacked Sculpture Award at
World Championship Sand Sculpture Competition
Harrison Hot Springs, B.C.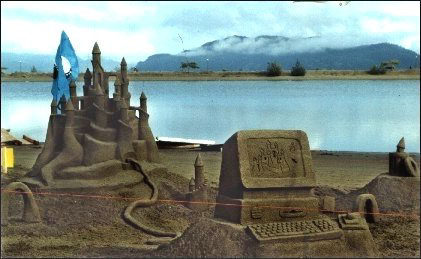 The ultimate graphics machine
It amazes me how much press this event doesn't get. One would think a world championship anything would merit some international attention, but it is even more amazing considering how visually interesting an event like this is. At any rate, the only press coverage we have seen so far was a single paragraph mention in the Vancouver Province, accompanied by two photos: a member of the Japanese team carving a Samurai, and a detail of my castle. Cutline: "The handformed creation, judged best in its class, was patted into place by traditionalist Lucinda Wierenga of Texas."
"Traditionalist"?! Yup. That's me, alright.
The computer is an Apple (of course) and someday it will brave the cold and the rain and build the castle for me while I lounge in the hot tub.....sf
| | |
| --- | --- |
| Power Macintosh 25,000/1000 ? | TRASHED! |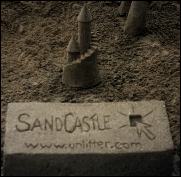 "Click HERE!"