Location: Virginia Beach, VA
Date: Sept., 2005
Category: Team
Particulars: That guy who used to be my partner/boyfriend and I have done well at this event - second place three years running. But he decided not to go - for whatever reason - the night before we were scheduled to fly to VB. Leaving me as a solo in a team event. Fortunately, "YP" - a visiting friend of fellow sculptor Karen Fralich offered to jump in and help me out. What she lacked in experience she made up for in enthusiasm.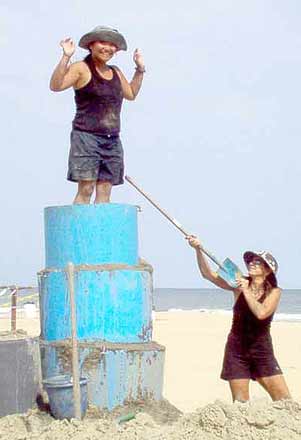 Mike dubbed us "women in black" and here is a picture of us fooling around during poundup.
The sculpture's subject wasn't all that funny - the aftermath of Katrina's devastation.
Shortly after this photo was taken I had to deal with a personal bit of devastation: the guy who used to be my partner/boyfriend sent me an e-mail telling me he saw no future for us.
This was after four years of (what I had viewed as) an exclusive relationship. By the time I got home he already had a new girlfriend.
I was a basket case and was barely able to finish the sculpture. I like the saxguy statue but there isn't really anything else about this sculpture that pleases me. YP was sweet but overall this contest is one I would prefer to forget.