Humbeek, Belgium May 23-June 5, 2000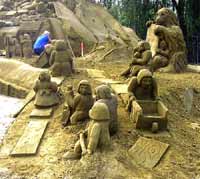 I think this was a very impressive sculpture - fairly huge and telling lots of stories. The fun is definitely in the detail so that is what most of my pictures zoom in on.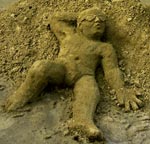 Munchkin gnomes. The cowardly lion of Flanders. Look carefully - can you spot Dorothy and the tin man and Toto too? They are there, along with the beach babe with the banana in his swimsuit snoozing on the job.
---
Lars is sly and clever and comes up with ways to enliven the subject matter. One guy plays a bagpipe-like instrument called a doedlebag or something while the other grimaces and plugs his ears.
---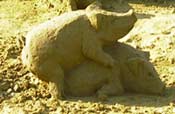 Pigs are important to the local economy, so Lars creates a new sport for the purposes of this sculpture: pig-pushing. Doesn't that look like fun? Oops - that's a shot I must have gotten on my other camera....
---
Architecture. Use the level, feets. Houses houses and more houses. Flowers in the window. Plants, shoes, cats, dogs -- a lady of the night who has seen better days. Bill Clinton. We are allowed even encouraged to leave subtle signatures in out of the way places. See the hooktail Texas? It's there.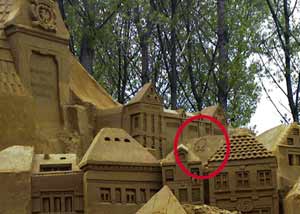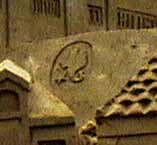 Some random shots...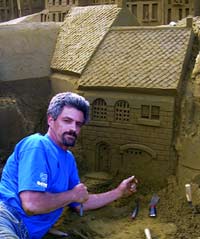 | | |
| --- | --- |
| | |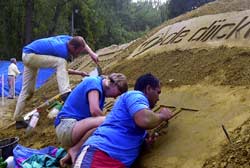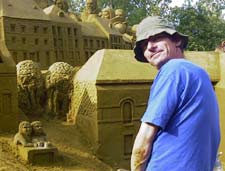 ---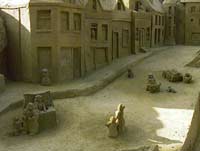 The canal zone: this is where I was let loose to play - just about the time the rains went away and temperatures rose along with the spirits. Little tiny people - 5-10 inches tall - living out their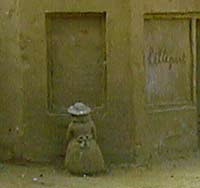 lives in the canal zone - some of whom were destined very short lives indeed. A frite stand with a happy boy who has eaten too many fries, the bored attendant and a begging Fritzydog. A little girl asking mommie for some frites. A fish lady. An interested cat. A guy unloading barrels from a wagon. A tiny boy running and waving. A girl carrying a bouquet of flowers. A surfer dude checking out the wave situation. (The last two got wiped out in a big storm before I could photograph them.) A largish woman carrying a baguette and a parasol. Two happy schoolboys walking arm in arm. "Sandy's puppets" they called them and time passed quickly while I was carving them.
I have posted more shots of the little people here, if you care to look...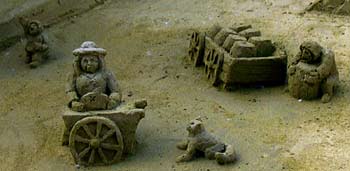 that's all

---