2005
---
---
At last a new book.
Colorful
and with a nice heft
Glowing reviews on Amazon.com and
the publisher seems
guardedly optimistic.
But Ellen gives it a miss
(and
What happened to the Today Show? I thought that was a done deal!)
I study at making it a best seller
one
autographed
copy
at a time.
Next year they will be reading it in German.
---
---
A no-show contest partner
An e-mail of dismissal
and
The four-year-long relationship
Spiraling down the crapper.
My successor -
a disappointing mediocrity -
already installed.
Never
Mind.
You were too much work, anyway.
We have said our goodbyes
Yet still you remain
That friendly ghost upstairs.
& I have you to thank for
a renewed interest in my piano
a new partnership with Suzanne
my new jeans - size 4p!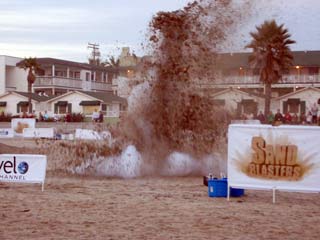 ---
---
A sand sculpture's temporary nature
is an integral part of its charm. (These people know.) ------->
Go ahead -
Blast that mother into orbit --
There will still be
plenty of material left
For (re)creating
Bigger Better Badder Bolder
With a new lover
Or perhaps an old one
Revisited.

---