The peace-lovin' angel was cute enough to photograph (we thought). We were going to finish it out as a Christmas tree with some ...er, surreal ornaments. By Sunday, we just decided to finish something with what was still standing.
Scroll on down to see what we came up with....
But first! the newest addition to my outdoor living room (I love it!)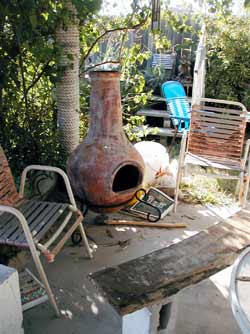 If it is a nice Sunday afternoon, check out the spi-cam and maybe you will see us back here creating something new!