My office
If I'm not at the beach or on the road, this is a likely place to find me. Scroll down for a trip down memory lane.... so whatever happened to that lava lamp, anyway?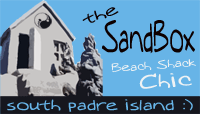 My office in 1996 was still located in my spare bedroom. The cat liked sleeping on my scanner and I had nice light from the window, but people could sneak up on me. When Best Buy decided to use Amazin' and myself in a TV ad partially set in my office, we constructed the current living room configuration ("fort feet") from old fence boards.
---

From the Archives: This is me with a bad perm and my first Mac, a Plus - purchased in 1985. My very first computer was a Commodore 64, but it did not take me long at all to discover the advantages of going Mac.
I have since let my hair do what it wants (include turn gray) and have used a Performa 575, a 520c Powerbook upgraded to a PowerPC, a Power Mac 7500 upgraded to 604e/233, a G3 Powerbook, a Keylime Green iBook, a G4 "Quicksilver" replaced with a 1.6 G5 Desktop, an "Icebook" iBook, a 12" Powerbook and my current configuration: A 20" intel-inside iMac with an additional 20" monitor and a MacBook and iPhone for the road.
By my calculations, I have purchased thirteen Macs, three iPods, and one iPhone in 25 years and yes, I bought Apple stock back when the iPod was just a twinkle in Steve Jobs' eye.
2009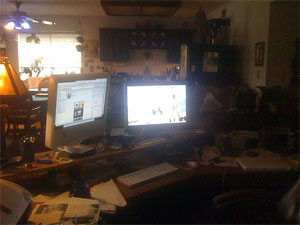 2006 - with my best old buddy dog Wags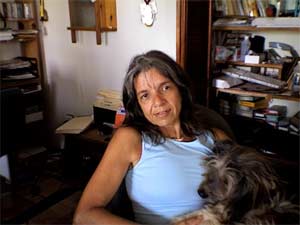 2003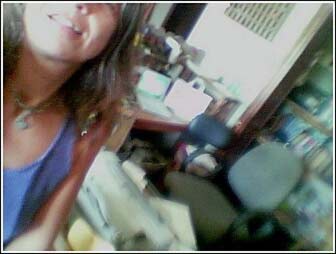 2001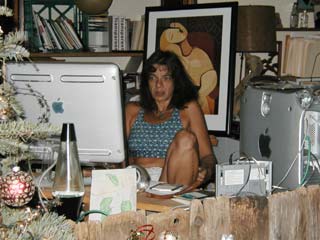 2000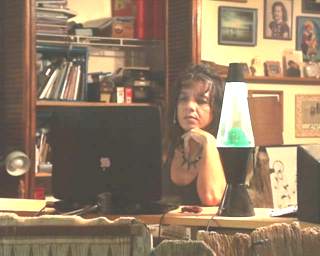 1998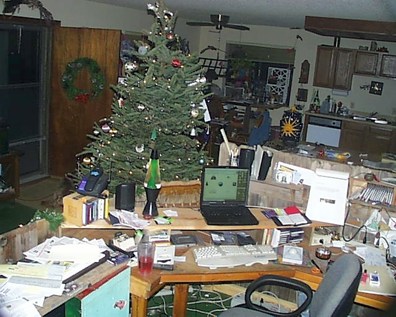 1997