s a n d y f e e t

the virtual tour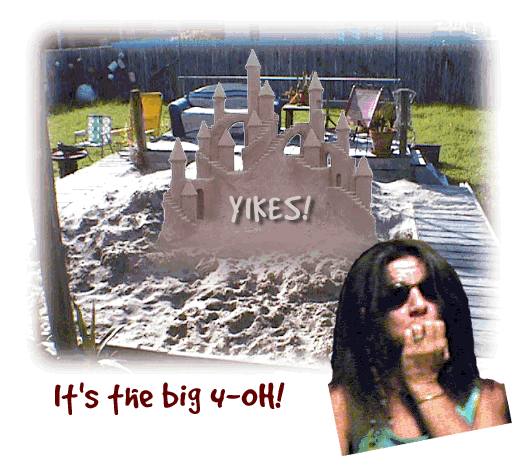 s a n d y f e e t turns 40!

I know. I can't believe it either, but it's true!

Had the best birthday party ever on Sat., Nov. 8, 1997 in my new backyard sand box. 20-30 of my favorite Island people came to help me celebrate. Many who were unable to participate sent some great on-line birthday wishes (see below.)

Sign of the times: the only snail-mail cards I received were from State Farm and my dentist. =)

(I will add to this page again when I turn 50.)

Update 3/21/07

Well, the Big 5-OH is rapidly approaching. And since it looks like I might be around to celebrate it (un-be-lievable!) I guess I better start planning the party. Let's shoot for Nov. 10, 2007. Right here at the Sandbox. Everyone -- and I DO mean EVERYONE -- is invited. Updates to follow....

Comments...

Happy birthday to you,
Happy birthday to you,
Happy birthday dear Sandy
Happy birthday to you.
You know, I think you're very sweet for being so old.
What...? What did I say? -- Mark
---
Does your enigmatic missive mean that the goddess of sand now has the benifit of a full 40 percent of a century of experience, learning and growing to bring to each of her endeavors? Wow, I'm impressed. Happy B-Day Feetsgirl. I'm going to spend it picturing you in your Birthday suit. MMMMMM!

PeaceSandLOVE!
---
C'mon, I'll guide you through it...go toward the light...grab on to my cane...

Happy Birthday, Sandy.

You don't look 40 and you don't act 40, so it is merely an accounting thing. -- Your friend, D
---
Words of wisdom for your birthday....

CONFUCIUS SAY:

Man who drop watch in toilet, bound to have shitty time....

p.s. remember you're like red wine..... only getting better with age.- D.D.

(This is a sand birthday cake created by Danny Dever in honor of his lovely wife Pam's 40th birthday. )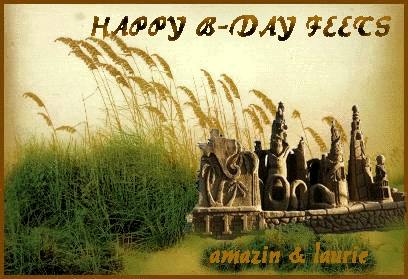 How dare they say you're getting old!

If the last few years are any indication of your future then the world better look out! Who else could be so cute and still go by the name feet? What MAN is brave enough to challenge you at darts knowing full well that you will kick his ass? What woman (well, besides me) still has what it takes to impart such vast KNOWLEDGE and SKILL to a younger generation?

And who else could sing "We Are the Champions" and understand its TRUE meaning?

No one! You are one of a kind!

Happy 4-0

YOU GO GIRL! Love ya, --Jill
---
Happy 40th-- If you are as much fun as your web page I'm sorry our paths never crossed. To answer your question about turning forty--It is the beginning not the end.

The Professor (retired)