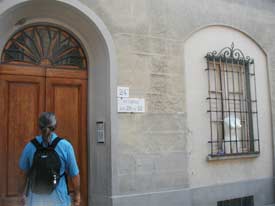 Number 24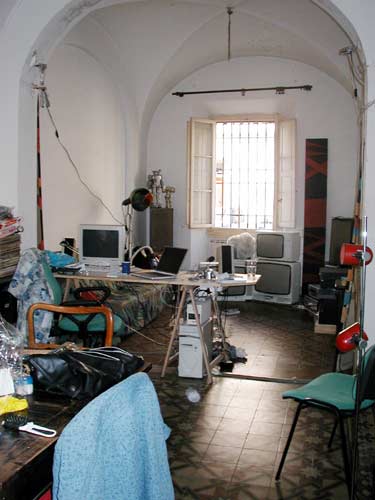 Our Florence Headquarters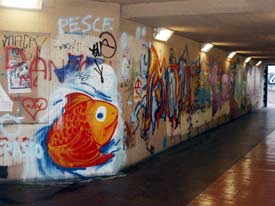 the statue of liberty with a machine gun

Rainbow-striped "Pace" (Peace) flags are a common sight in Italy - but it is apparent that it has been a while since they were positioned...


Florence, Finally
Update 7/28 - We have woken to our second morning in a rental apartment in the northeast area of downtown Florence. We found it online in the Lonely Planet travel forum and it has suited our needs just fine. We have yet to meet our elusive host (though his brother - who resides in the same building - has been quite helpful and friendly) but we are able to draw some interesting conclusions about him based upon his flat:
He has artistic leanings
He dabbles in audio-visual projects
He has no use for such bourgeois luxuries as hot water, toilet paper or a cheap electric fan

No matter. We have plenty of space here, a reasonable kitchen, both clothing and dishwashers (don't use them at the same time, though!) and the best thing of all about this apartment is DSL internet access. After the cafe owners in Vernazza were so unhelpful, I decided not to give them any of my money to use their crappy computers so I was 4 days behind and had a lot of catching up to do when we got here.

The Location

We are northwest of the historic district... about a 15 minute walk from all the good stuff. We walk slow when it is really hot and keep to the shady side of the street whenever possible. We are on the "wrong" side of the tracks and have to walk through an underpass to get to the other side. The graffiti is amazing and every time we go through I see something new.

Keeping Cool
Florence - like the rest of Italy - is HOT. No AC and no fans... what is up with that?? Our first afternoon here we made the mistake of throwing open all the doors and windows to try to get a breeze through. All we succeeded in doing was ushering all the hot air from outside into our lives. The walls are very thick here and we quickly figured out that if we close everything up early we can hold onto the morning coolness into the afternoon.

(Being on the ground floor makes getting in and out easier, but also puts us in the heart of traffic - pedestrian and otherwise. When the window is open, people passing by almost can't help but glance in. We put our host's naked woman manniken thingy there to give them something more interesting to see.)

Our routine has centered itself around keeping ourselves in a tolerable environment. Computer work happens in the morning or late at night. During the worst heat of the day we head off to the air conditioned museums. Fred puts water bottles in the freezer the night before, then wraps them up in a towel along with a picnic lunch to carry in the daypack. This keeps his back cool, our lunch fresh and gives us a steady supply of ice cold water all day long. The man is a genius... truly.

Sleeping has proved a more difficult nut to crack. It is just plain hot and noisy - lots of talking on the street, TV coming from the courtyard, vespas buzzing around everywhere at all hours. We have been seriously jonesing for some white noise. Still, somehow we are both sleeping well, once we get tired enough.

All these high ceilings - someone could make a killing by introducing ceiling fans here....