Things We Have Seen
Day One

THE David (of course)
It is _not over-rated. It is just an effing incredible piece of sculpture. The fake David by the palazzo Vechio is a very pale imitation indeed.
We were able to get into the Accademia Gallery very quickly and easy about 10:30ish on a Sunday morning. The rest of the Gallery is a bit ho hum but we did get to peer into (and take an illegal photo of) a room crammed full of sculpture that we would have like to investigated more closely. A very long row of male busts flanked by an equally long row of female busts. Love the hairstyles...

The Duomo and Bell Tower

This was during the hottest time of the day. That's a big dome! (click) Great door panels! (click) Lovely bell tower! (click) Is it time for gelato yet? (slurp)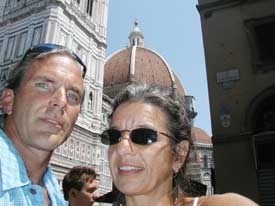 The Palazzo Vecchio
The Medici seat of power in old Florence... this family put sculpture _everywhere. Just because they could. The loggia was a great place to sit , chill out, sip Fred's Fabulous Frozen H2O drippings and soak up the marble.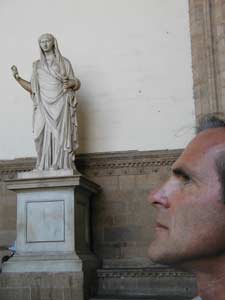 The Uffizi (and its courtyard)
Here is the renassaince hall of fame walk - Fred striking a Leonardo pose -

- me looking up some guy's skirt (one can do amazing overhangs with marble).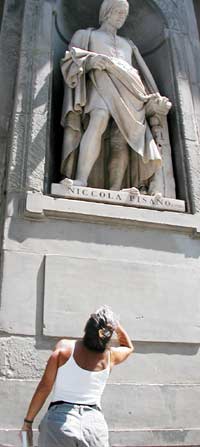 The gallery itself has a much shorter line than Rick Steves (and other writers) predict but we pay the 3 euro reservation anyway to jump to the head of the line.
RS' Florence guide earns every penny I spent on it here. Something has eaten up all the space on my digital camera card so no more pictures for today.