Friday Night - Still in Vernazza
Yes, we should be enjoying DSL in our Florence apartment right about now but the rolling strikes affecting trains all over Europe chose today to arrive in Italy and mess with our vacation.

This morning our plan was to catch the 11:07 to La Spezia and then another train from there to Florence. We enjoyed our morning coffee on the terrace, strangely unbothered by the trains that usually roar through every few moments. Giuliano showed up with a long face and the explanation: the trains are on strike today -- all over Italy. If we were going to Firenze, it would not be by train.

We try to contact the person we are renting the Florence apartment from but the storm has taken out the phones as well.
...Our day had suddenly gotten a whole lot more complicated.

Neil and Caroline assured us that we would be welcomed to use their spare bed in a pinch, but we didn't think it wise to put that much of a strain on such a new friendship, generous though the offer may be. So I bought another newspaper and Fred went back into room-finding mode. With all the practice he is getting a lot faster at it now, and it didn't take him long at all to return with a key to something for us to take a look at. Neither of us were impressed -- how jaded we have become! so he suggests we try the one with the castle wall clinging terrace again and I'll be damned if it wasn't in fact available. Just for one night. Which was all we needed it for. We hoped.The room itself was tiny but the big private terrace certainly helped make up for it.
Update 7/27 We passed a relatively lazy day on our new very private deck. We read, goofed around on the computers and plowed through a couple bottles of the local white. Poor us. Can't get to the city. Boo Hoo. Have to spend another day on the nasty old beach. Wah wah wah.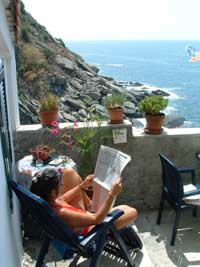 Fred painted. We watched the boats - including Mr. Pretty Boy Maroon - go by. Headed down to the harbor for a midday swim. The previous day's storm had stirred up some swells that seemed to be keeping the ferry arrivals down to a minimum. Combine that with the rail strike and Vernazza was pretty quiet... and it was a weekend. We found a flat rock and read some more. Picnic dinner on the terrace, then Fred decides he needs one more (sunset) swim. I claim a rock and watch folks run for the last ferry out of town. The harbor is peaceful... nearly deserted.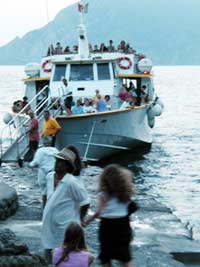 Time to leave. We vow to rise bright and catch an early train.