Insomnia...
Luliang, Yunnan Province - 3:21 AM local time, 3/2/01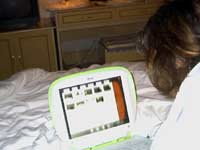 It is quiet here. No traffic noises whatsoever (is that why I can't sleep?) and it is cold (though it was lovely and sunny and warm when we arrived here, about12 hours ago.) I cannot figure out how to turn the heater on or the lamp off, and the change in altitude has me gasping for air when I climb the single flight of stairs to my second story room at the Luliang Hotel --but these things will resolve themselves over the next day or two, I am sure.
Some good news after the reception - we are led to a sort of crew's quarters where multiple computers with internet connection have been set up for our use. I dash back to the room for my still new key lime green iBook - which causes a certain amount of excitement in the local computer geek crowd who have quite obviously not seen its like before - and they make me very happy by hooking me up with my own ethernet cable. The service is slow but will save me tons of money by avoiding aol surcharges. My only updating limits now will be time constraints, once the contest actually starts.
Now for the bad news: my "better" digital camera (the Ricoh) refuses to auto focus, and the brand new Cannon Elph film camera I bought just for this trip won't work at all. The shutter doesn't open and the lcd readout is flashing an unhelpful "H" at me. Failed to bring the manual (stupid stupid) so if anyone can tell me what that H means and how to make it go away, I will be eternally grateful. Otherwise, I am stuck with my cheapie jamcam - which has functioned just fine so far, if a little blurry - but is not up to the full task of documenting this trip and my scupture for all posterity. Will I even be able to find a disposable here? Hope so!