The trip to Luliang
3/1/01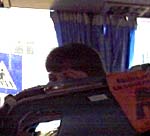 Early in the morning we pour ourselves and all of our luggage into a too-small bus for the air port. Two hour flight to Kunming City where we were served a real meal and lots of strange packaged snacks ( squid chips, anyone? Damon reportedly liked them just fine.) I collected all the uneaten ones I could witht he idea of serving them at a "Mysteries of the Far East " party when I get home.
In Kunming, we piled into another too-small bus (see Patricia peering at me from the other side of the luggage mountain) for the 2.5 hour drive to Luliang. I was ale to score a windo seat (finally) and really enjoyed viewing the countryside and shooting photos from there. There is some very cool stone scupture along this road.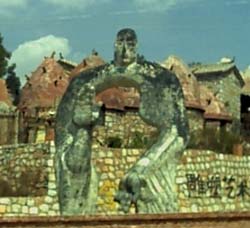 Animals - they seem to be unfamiliar with the concept of animals as pets here. The animals pull their own weight - and then some.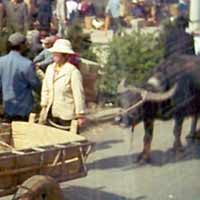 I have seen exactly two dogs - sad, scroungy creatures they were. Ponies, mules and what I think are water buffalo are much in evidence. The buffalo have stoic expressions.
The road is narrow and winding, and must be shared with a wide variety of slow-moving conveyances. The driver makes liberal use of his horn and the guy behind me is non-stop on the cell phone, so sleep is not an option.
The bus is not equipped with facilities but the driver thoughtfully pulls over at a midway spot and we are given our first exposure to the local idea of a rest area. I had read about these, been warned to carry the paper work but was still caught unprepared. That will not happen again.
It is exciting when we get our first view of the "stone forests" - dramatic outcroppings of rock that do indeed appear to be growing right out of the earth.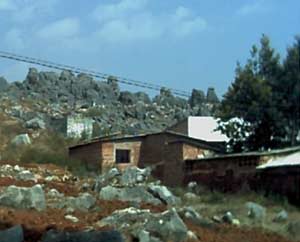 This is of course not the "real" stone forest - the one that is a major tourist attraction here and that we are hoping to be able to see at some point in our stay - but it is a taste of it.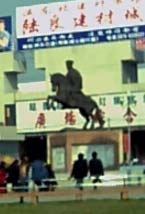 It is a relief when we pull into Luliang, where the visitor is greeted by a large statue of Kubla Khan (I think he was Ghengis' son?) who apparently made a big impression here. At the Luliang Hotel, the cameras are all over us, even as the bus pulls into the parking lot and we collect our luggage from the bus' nooks and crannies. It would appear that we have already attained minor celebrity status without having lifted a single trowel. Local publications as far away as Shanghai feature head shots of the competitors and demo sculptors. Our countries flags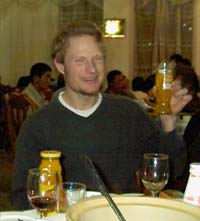 are lined up outside the hotel.
The welcome reception features another huge meal of local delicacies wheeled around the table on the now-familiar lazy susan thing, washed down with Gensing wine and Chinese beer and little celebratory shots of a clear substance that tastes like nothing I have ever tried before but burns all the way down sort of grappa, ouzo, tequila, etc.
The local dignataries are out in force, making speeches, proposing toasts and just generally making us feel extremely welcome. We draw for our plots - I get middle ground (lucky #5) which suits me just fine. By the time the affair breaks up, everyone is enveloped in a warm, brotherly lovish glow.
Group shot # 1 (yes it is blurry -- but so are we) - Time to introduce the players: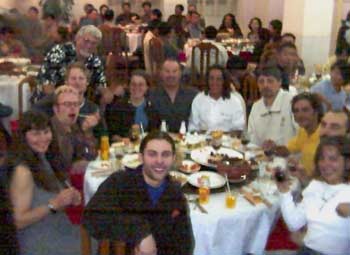 clockwise from left: Patricia (Canada), Wilfred (Holland), Peter (Denmark) Gerry (WSSA), Edith (Holland demo), Bruce (WSSA), Dennis (Australia), Damon (USA demo), Benjamin (Mexico), Leonardo (Italy), Me (USA) and Alexei (Russia)