After breakfast, we took the half hour drive to the site. From the parking area it is a long march indeed to the first demo pile - and another long walk to the second demo and competition plots. But what a walk! Huge carved stone gates, walls decorated by hieroglyphic-like plaster designs and the stone forest itself, shot through with small canyons, natural grottos, caves and pathways. Overhead looms a giant reproduction of the Great Wall - maybe the closest I will get to seeing the real thing.
The pounded up piles are dauntingly huge when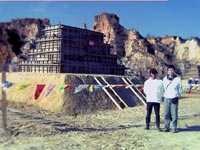 you get right up to them. This one is mine and the two people are my translator (Peter) and the crew leader of the local team that will be helping me (Chin?). They both seem very good natured, enthusiastic and I think we will all get along great.
After meeting our teams, we had a brief meeting reviewing the contest rules and judging criteria and some suggestions for making best use of the piles of colored sand dotting the contest area. This is new territory for all of us, I think and is going to add a very interesting dimension to this event. I am trying to pick up a few important Chinese words/phrases (thank you, hello, and well done for starters.)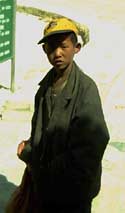 After lunch, we took the tour through the stone forest. Utterly awesome. This is when I noticed the kids. 4 or 5 dirty-faced urchins who had quite obviously never seen westerners before. They followed us, depositing our empty water bottles in the mesh bags they carried - I guess to be redeemed for a few yuan. This little sad-eyed boy seemed to be right behind me every time I turned around.
Part of the tour involved a ponyback ride up the tree and bamboo covered hills surrounding the stone forest. Leonardo and I declined - he had his reasons, I had mine so we did the 4 kilometer trail on foot (uphill, in high altitude) and pretty much managed to keep up with the ponies.
The view of the lake and surrounding area from the top was quite breathtaking, and also featured a very dark domed cavern with an elaborately carved entryway and an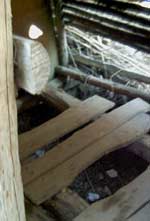 alter-like centerpiece decorated with carved artifacts -- it really felt like something from an Indiana Jones movie. The acoustics were very good, and Damon played his ocarina in there to great effect.
The bathroom facilities were 5-star -- very open aired which prevented the awful stench that seems to be the norm for public facilties in this part of the world.
We walked back down the hill on a very long, steep and winding stone staircase to the river's edge, where we were ferried back to the hotel area via power boats. What a day!!
Mere photos cannot do this place justice, but of course that did not prevent me from shooting a whole bunch and uploading the best of them for your viewing pleasure. They may be seen in web gallery format here.