Slipaway Cottage - Elbow Cay, Abaco
Flight to Marsh harbor, taxi to ferry, ferry to Hope Town where our hostess picked us up. 3 mile drive over narrow roads that degenerated into a caliche path - at the end of which was our cottage.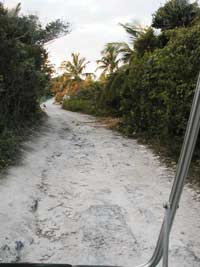 "Slipaway" is every bit as lovely as it appears on its web-site. Rearranged the furniture so we could wake to the sun rising over the Atlantic. big surf here - colors ranging from cobalt blue to aquamarine to Aphrodite green to the palest of sea foam.

Day 1 - We were both wide awake by 2 AM and that seemed as good a time as any for coffee and breakfast. It was cold and windy for starters but once the sun came up things warmed up quick. We arranged for delivery of our personal golf cart. "Hector" is not the speediest of steeds but he gets us where we want to go... eventually. Headed over to Hope Town 9ish for supplies and orientation. A fine sunny morning by now, we parked Hector outside the settlement proper (no vehicles allowed) and wandered through a couple of shops that I will make a point of revisiting. We saw maybe 40 people the whole time we were in town - such a (welcome) departure from Atlantis! Found "Cap'n Jack's" on the waterfront and had "second breakfast" on the deck where we could see some rather scary looking clouds roll in and the yachts moored in the harbor started changing direction. Grabbed some groceries and hightailed it back to Hector. First some sprinkles and just about the time we hit the caliche it began to rain in earnest. The power had gone off but we were dry and cozy in our cottage. "Elevensies" was yummy homemade bread slathered in peanut butter...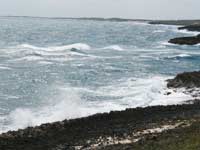 By 1:00 the rains were over and the clouds were breaking up. Just to emphasize that we were truly on vacation, we celebrated happy hour (rum and a variety of juices) on the porch. Noticing that the cottages on either side of us appeared to be unoccupied, we decided to make it "happy naked hour" and the breeze and sun on body parts that hardly ever get to experience either was quite delicious.
Late afternoon - we jumped back in Hector and made the short drive over to Tahiti Beach - supposedly one of the finest in the Bahamas. Very few people there enjoying it. We picked a spot out of the wind and poured more rum punch for happy hour phase III. Meaningful conversation. Fred went for a dip and saw a huge leopard ray.
We headed back to the cottage when it started to get chilly and Fred whipped us up some tasty pasta, served with a nice merlot. The cottage is small but with the furinture rearranged, there was still plenty of room for a dance floor and he had brought just the right selection of cd's. Early to bed for the best night's sleep I had had all week.