What's a Hairwrap?
This is what Mona might have looked like with one:

A hairwrap is a very small strand of hair - about as much as would fit through the eye of an embroidery needle - wrapped with a variety of colored cotton embroidery floss and festooned with beads, charms, feathers and shells. A good wrap can withstand a daily shampoo and blow-dry and should last 2-3 months -- and with attention and care can in fact last a good bit longer.

Hairwrappers can be found almost everywhere there is a crowd, but they seem to be most prevalent in beach areas - I've gotten wrapped in San Francisco and Key West, though I've heard that New Orleans and Austin are also good places to get wrapped.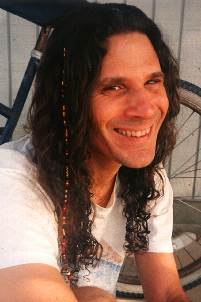 < This is Duffy, a self-confessed serial recycler and high school art teacher from Connecticut. He just happened to be in the neighborhood for a few days not too long ago and decided he needed to get wrapped. I warned him that it might possibly increase his sex appeal by a factor of 10 -- but he decided to go through with it anyway.
I don't do as much wrapping these days as I used to - mostly just on my dog and some close friends - but I love getting them and if you are on the Island and want to get wrapped, I recommend Lily over at K's Jewelry (next to Feldman's) - she does very fine work. If you are a wrapper coming to the Island for spring break or any other reason, please let me know as I am very likely a good candidate for a new wrap.
Dunehead does a beautiful wrap as well (he learned from the best, she says modestly) and you can try calling him at 761-TWA1.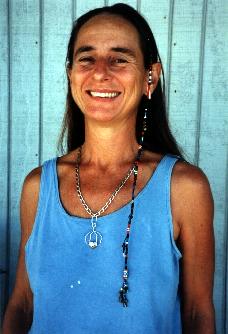 To the right is a wrap I recently did for my friend Aziza the massage therapist. I usually do one for her birthday every year. She is a challenge because her hair is incredibly long but I love seeing her in them.
Try this at home: Isolate the hair strand; knot 3 longish strands of floss at the scalp. Start wrapping, adding thread as you go, alternating colors to create patterns as you wrap. Leave strands hanging which can then be braided and for adding dangles - beads or charms. Finish off the bottom with beads or a knot. I use a thin strand of beading wire to pull the hair/thread through beads.
There are lots of other fancy knots and ways of adding beads/charms, but the best way to learn them is to watch someone else do it. (In other words, don't write and ask please because it is just too hard to explain!)