By now we were down to six - John & Judy,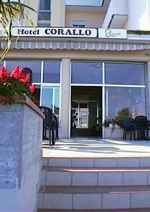 Damon & Beth, Rich and myself. This was to be John and Judy's last night in town.
When we returned from Caerle, we discovered that Beth and Damon had not been total slouches for the day and had in fact constructed a very nice sculpture right in front of the hotel.
Left: Beth with her "Grazie Hotel Corallo" Sculpture