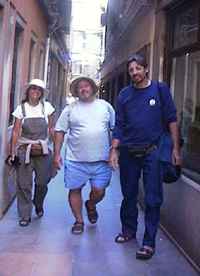 Above: Beth, Rich and Damon cruising down a narrow Venetian alley

Below: The view of San Marcos from the ferry
One Last Day Trip to Venice
And then there were four.
Damon, Beth, Rich and I had a gorgeous day in Venice the day before our respective departures. I went prepared for cold and rain so of course there was not a cloud in the sky.
Below: Venice's Grand Canal makes a great photo background, no?