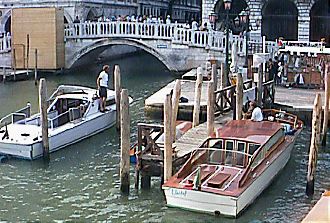 Sexy Italian men in their fast boats were everywhere...
One of the highlights of our trip was a tour of a special showroom of glass sculpure in Murano. I didn't shoot any picutres because I thought it might be rude and anyway I was too astounded by what I was seeing to think to bring out the camera.
All I cn say is if you ever get to Murano ask the English speaking blond guy there if you can see the "other" showroom and don't be scared to ask about prices - this is a factory outlet and they will ship and insure for much less then you might imagine.
Russell polishes his panhandling skills...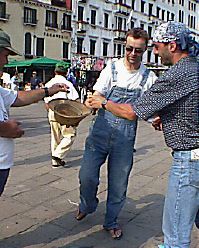 Below: waiting for the bus home
We were all pretty pooped as you may be able to tell from these pictures