We had heard so many wonderful things about Siena and it really is a lovely walled town but it seemed so very touristy. What really made the place for us was our accommodations which were located about 10 minutes away from the walled city - out in the Tuscan hills. Go ahead and check it our for yourself -
franceslodge.it
- (they have an excellent web site - we had the "Moroccan" Room.)
The lodge is a beautiful old place, fixed up really nicely - and far away from any city noises including VESPAS (though we did hear some dogs barking in the distance.) After the hustle and bustle of Florence, this was exactly what we needed. The pool was refreshing and with its view of the old city walls, a really nice place to hang out. Our host and hostess were just the sweetest. They both speak excellent English and let us access the net from their computer pretty much at will. They made some calls for us to expedite our travel to Dubrovnik, gave us a ride to the train station during a nasty storm to reserve our seats to Venice and were extremely helpful in every way.
Francis' Lodge is not cheap - in fact, it is the priciest spot we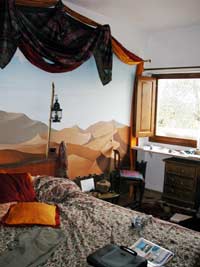 are likely to stay on our journies - but it was truly worth every penny. The breakfasts were not your typical crackers, cheese and salami euro snacks. We are talking bacon and eggs - cooked to your specs - toast with a wide variety of locally produced jams and honeys , the native "peccorino" cheese (the first morning Frances comes out and explains the different colors of skin which indicate how long the cheese has been aged) and a cappuccino served in something approximating a soup bowl. .... plus all the "Americano" coffee we cared to drink. The towels (both bath and poolside) were the biggest and fluffliest I have ever seen. The room was outfitted with a eye that paid very close attention to detail (the bedside light is a lamp strategically located to appear to be attached to a pole that is painted into the wall mural.) The large yard is perfect for a late afternoon game of bocce ball and is also a great place to be meeted and greeted by the 3 house puppies who are friendly but
unobtrusive. (We have been craving a puppy dog fix you bettcha.)
We went into Sienna twice - the first time for a sunset dinner on the campo and then back the next day for an internet fix (I wanted to upload some files from my laptop) and lunch. We arrived in town during an impressive storm - the first place we tried to connect my iBook (ultimately unsuccessfuly) was our vantage point for watching marble sized hail drive the tourists to seek shelter. The gentleman running the place was very sweet and helpful but ftp was just not possible.
Aug 1 - Siena

Time to pack again. This was a short stay but just what the doctor ordered after the vespas of Florence and before some 24 hours of rail/bus travel to our next destination.

Croatia! Isn't that the place where people were killing each other with impunity just a few years back? As a matter of fact, one of the Italian language books on the country we were paging through yesterday had a map of old town Dubrovnik with areas marked - color coded - by how badly they were damaged by bombs in 1991.

Would have been really nice to find a guide book in English but no luck - we hope to find something upon arrival -- or maybe the train station in Trieste.

The stuff we did manage to find on the net before we left Florence suggests that the city is incredibly beautiful, quite inexpensive to visit and eager for the tourists to come back.
Little did we know what awaited us on the road to... Trieste.