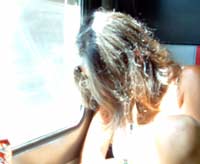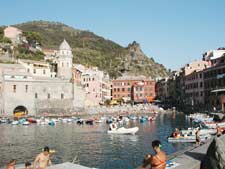 A couple of classic shots of the harbor area - where most of the action takes place.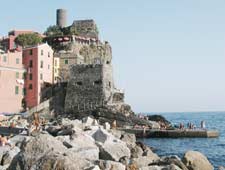 This is Belforte ("strong scream" according to RS) - restaurant built right into the side of the cliff. It has a famous submarine door which Fred graciously agreed to pose with...
We have finally settled in here in Vernazza though it did take nearly 18 hours to do so. But it was definitely worth the wait and the hassle. This is one of the most lovely places I have ever been and Rick Steves really does know of what he speaks. (RS himself is reportedly here in town as I write this and no doubt finds it gratifying to see all of us wandering around clutching his books to our American bosoms.)

When I last wrote we were enjoying Signora Ugolini's fritatta in Riccione and planning our escape to Cinque Terre. Originally we had thought to leave very early Tues. morning on a trainride that would have included a lunch stop in Pisa, but that plan changed sometime Monday evening. After the stop at Internet point, we pedalled to a beachfront restaurant for some cool refreshment and a good view of a fireworks display. There we were greeted by a charming girl from the Czech Republic who spoke flawless English - our waitperson - and the not-so-charming local practice of tacking on a $5 service charge to already outrageous tab. You definitely pay for that little piece of beachfront property...

At any rate we were up pretty late that night and so we decided to give both ourselves and Leo (who graciously offered to drive us to the train station in Rimini) a break and take a later train with a connection in Parma. On the way we re-read the Cinque Terre section on RS' Italy book and that is when we decided to look for a camera (room) in Vernazza. While even RS admits that he has somewhat ruined the place by declaring it his favorite of the 5 towns we decided how bad can it be to share the place with a bunch of like-minded folks?

We arrived in town about 5 pm yesterday without reservations. We had called a few places from the La Spezia station without luck - of our top 3 choices, Giuliano did not answer his phone and the other two were already booked - so were primed to grab the first opening that presented itself - Pensione Sorriso. The room was very small but clean and cheerful and Ricardo at reception was welcoming and ready to draw us a cold beer (available only for guests, and we were pretty thirsty at that point.)

The room was located up many flights of stairs but still offered a view that consisted mainly of the building on the other side of the road. Even so, we had a door and a handkerchief-sized balcony and were spending less than 100 euro for the night so we went with it. Took our initial stroll down Via Roma and got the full impact of its Disneyland picture postcard appeal. Found an English language newspaper! The harbor was bustling and lots of kids on the beach. Enjoyed adult beverages at the bar on the end of the jetty - Fred strolled with the camera while I inhaled the news and enjoyed the local white wine... molto buono.

Bought picnic supplies at the grocery - crackers, cheese, fresh tomatos and a small tub of the locally famous pesto; wine and limoncino at the liquor store run by the grouchy old man. Picnic on our tiny porch, then off for another stroll. The church by the harbor had organ/choir music. We traversed around it and found a terrace with a better sound, great view and the only other inhabitants were a cat and the the lizard it was stalking. Just about then the lights went out. The crowd below let out a cheer and my honey and I did what lovers always do when the lights go out...

We prowled the warren of passageways and stairs beneath the castle determined that we would find better accommodations for the next night.