updated 7/21/03
Here we are - nearly 2 weeks into our epic jouney and I am just now getting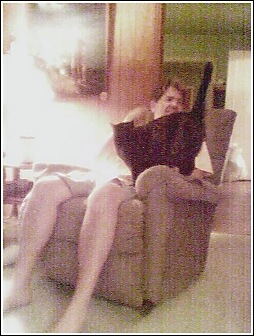 started on updating this site. What a sorry SoB I am... Perhaps the breakthrough had something to do with the luggage fairy showing up with all of our stuff late last night -- finally! I am far less-stressed out since we arrived here in Italy on the 17th only to find that our luggage had decided to hang out in Paris for a few days.
We left South Padre Island on July 8 - driving up to Corpus late that afternoon. We are flying Delta and partners and CC is the closet place to plug in. As a former resident, Fred has lots of buddies there so finding a place to camp out prior to our early flight departure was easy. We headed first to the residence of Gary and Jeanine to find beer and wine, good conversation and our first animal entertainer of the trip - Blacky the cat. (pictured here with Gary.) We aren't sure who trained who, but together they put on a great rocking chair show.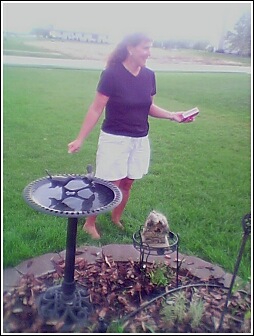 We spent the night in Bobby's spare room and caught a delayed but otherwise uneventful flight to Chicago the next morning. Picked an "Aztec" from the National rental pool which we affectionately dubbed "the silver tank" which Fred skillfully (if not all that patiently) navigated through Chicago rush hour traffic to get to the home of his sister Dianne.
Dianne and her family have a lovely home in the suburbs where we were made to feel most welcomed. Here is a picture of her with a bird castle given to her by Dad Feets - I think this is the first time I have ever actually seen one filled with birdseed. This family also has a gifted pet - Callie the Border Collie with her sidekick the matching cat. Callie has a good trick she performs whenever the family's rec room pool table is utilized. Fred captured in in video and perhaps someday we will post it on the site with a link from here. In the meantime, you will just have to take my word for it that it is really really funny.
[sand] [web] [virtual tour] [trips] [e-me] [home]