Full Contest Mode
3/8/01-3/9/01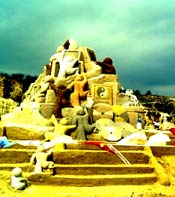 7:15 AM It is make or break day for me. The piece is basically completed about half way around but there is a large chunk of uncarved real estate that must be attending to today. (Tomorrow is just a a half day and should be spent tidying up and adding extra detail.)
I am sticking with my plan for a giant CPU but have added a huge, swooping Daliesque keyboard to the design to cover up the naked corner. While most of the necessary sand is in place, there is still a fair amount of shoveling to be done to get the long, graceful curve I can see so clearly in my head. Can I translate that idea to my crew? That will be the trick.
While they are shoveling, I will letter the title in English - Chin will be finished with the Chinese translation this morning - and continue roughing out the signature corner - a stack of monitors where everyone who worked on the sculpture will write his/her name.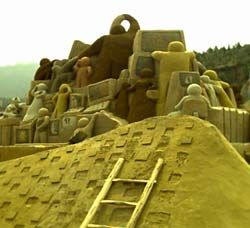 I think it is important to not lose sight of the fact that -while this piece is my concept, the finished sculpture is very much a team project. If we place in the money, they will be rewarded with handsome tips.

The crowds are picking up -- got my first glimpse of older women hobbling around with bound feet -- makes me wince just thinking about this strange form of self-mutilation.
Yesterday a camera crew filming a promo spot chose my piece as the backdrop. I take that to be a good sign. I didn't shoot any pictures as I worried about running out of battery power. But last night while I was on-line Damon went in search and found a 9-volt. -- what a nice thing to do -- so today I can shoot with wild abandon.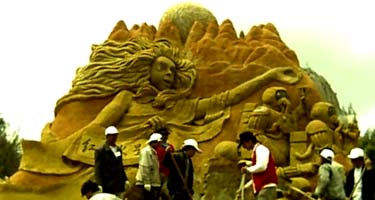 This is one side of the first demo sculpture - Damon Farmer's sculpture of the spirit of cooperation looking over astronauts from many countries on the surface of Mars.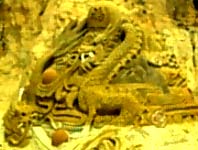 This is a detail of the other side of the pile being sculpted by a Chinese team. It is not a good shot, but if you look closely just above center, you will notice that the dragon there is missing an eyeball. A couple of days ago there was a prediction of hard rain. Chinese tradition has it that the dragon is associated with water and you are not supposed to add the eyeball until the dragon scupture is complete - the dragon will get mad and bring big rain. This team went to great lengths to remove the eyeball and the predicted rains never came.... for whatever reason.
The eyeball was replaced today.