Still Learning Life's Lessons - Naked Women Rule!
I reckon I have competed in no less than 36 masters level sand sculpture contests in the past 15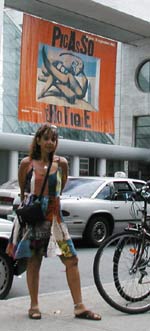 years - 16 in just the past 2 years alone - and I have learned something valuable at each and every one of them (i.e. the judges are blind, the judges have no taste, the judges ignore the published criteria, etc. etc.) The most recent - the 2-person team competition at ExpoCite in Quebec City - was no exception.

This was my second year in Quebec and I was surprised when the invite came through for 2001. This event, like many others, is trying to attain a more international flavor and as a result, the usually dominant US sculptors are being squeezed out to allow more room for other nations to participate. My partner in last year's team event - Kirk Rademaker of Oakland - had pulled off a surprise 3rd place win in the solo contest with his brilliant machine piece entitled "Electric Feather." I was told that the organizers had particularly admired his edgy style and that was the reason that we had gotten invited back this year. Dangling from another sculptor's coattails is not my favorite way to get into a contest, but this is a biggy and I was happy to get there any way I could.

Having this bit of insider information was useful in determining what the subject of our sculpture should be; it seemed quite obvious that we needed to build another one of Kirk's fanciful machines. If the judges liked it once, it was reasonable to suppose that they would go for it again, right?

We had arranged to arrive early in Quebec to give us the chance to do a little sightseeing as well as sculpture-planning before the contest started. I had read in a magazine that an exhibit of Picasso's erotic art would be showing in nearby Montreal all summer, so we rented a car and checked it out. (The exhibit will NOT be showing anywhere in the U.S. for the obvious reasons, so it would be our only opportunity.) The exhibit was every bit as naughty as I had hoped it would be, and we both really enjoyed it. Afterwards we found a nice streetside cafe offering wine and pasta and got down to the serious business of talking about our sculpture.

"Let's carve a bunch of naked people," I suggested. "Women. Lots of naked women - drinking wine. Lovely round, buxom, curvy women are so much fun to carve!" (Blame it on the wine or the erotic art exhibit, or a combination of the two.)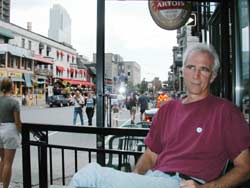 My more practical partner steered the discussion back to machines. He had several options in mind, but I was attracted to his idea for an elaborate cork extraction device. I could create the operator for this machine, and after another glass of red it seemed obvious to me that this operator should be Bacchus himself, the Roman god of wine. The organic grape bunches and leaves would provide a nice contrast to Kirk's bolts and gears.

We worked for 22 hours over three days and I must say that I think we created a really fun piece: A massive Bacchus peering at his control panel and riding the machine like it was a Harley, "In Vino Veritas" emblazoned on the back of his t-shirt. Kirk's machines not only look cool - they even sort of make sense ("see, the foot pedal attaches to this threadle which activates the gasket pump which rotates the gear shift" -- or something like that.)
---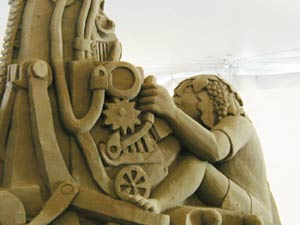 see more photos here
---
"Tres Cool" it was, but not cool enough to place in the money. Again - unofficially - we were told that the judges thought it looked just a little bit too much like Kirk's electric feather of the previous year. To top it off, we were beaten by the Russians, whose piece had featured a curvaceous naked woman. It was similar to the piece this same team had created in Italy -- the piece that my partner Carl and I had beaten with -- you guessed it - yet another naked woman.

So what lesson did I learn from this competition? Let's just put it this way: there is an extremely good possibility that my next competitive sand sculpture will have two big rounds things in front, two more big round things in back --- and be a LOT of fun to carve.