Carving Sand in Corn Country
by sandy feet

This week finds me in beautiful downtown Des Moines, Iowa. From my Holiday Inn room window, it looks much like any other beach-less city and I haven't woken up a single morning without wondering where am I and why am I here? (Oh yeah -- Iowa and I am getting paid for it.)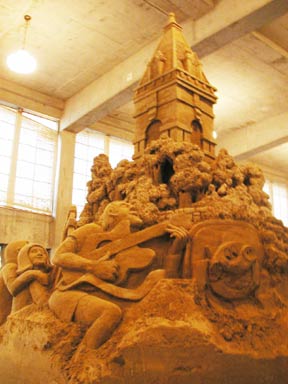 Last Wed., when Des Moines was suffering through the same heat wave that was affecting much of the country (like summer in Texas, only without the AC), we had the pleasure of moving some 50 tons of sand from the sidewalk into the Iowa State Fair Cultural Building atrium. We had a bobcat, a gas powered whacker and three guys from Manpower to help, but it was still a grueling task and the heat was draining. After building forms, moving sand and pounding the heck out of it, we had a 14' tall mound of compacted sand and not a clue as to what it was going to be when completed.

Our sponsor for this project is Drake University. The marketing folks there had some ideas on what they wanted to see, but the State Fair people were just encouraging us to "do our best work." Thursday morning's compromise involved starting off with a replica of the Drake tower - "Old Main."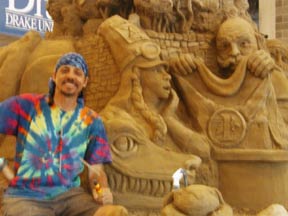 Thursday, 8/9 -- It was still incredibly hot and with fair beer prices running at $6 a pop, we were definitely hurting for liquid refreshment. Mid afternoon, a guy with a foam cooler shows up at the site looking for me. The label on his shirt gave me a clue as to what might be in the cooler and sure enough, an iced down 12 pack of Coors Light greeted us, along with a note from the Coastal Current staff wishing me well. Based on a conversation I had had at Jake's just prior to my departure, I am almost positive that one I.B. Hooked had everything to do with this and I have to tell you it is the best thing that has happened to me so far since I got here. Merci Mucho I.B.!

(Consumption of alcohol is prohibited in the cultural building -- how can you have culture without beer??? -- so we have devised a clever plan for getting away with drinking here. The booth next to our sculpture sells apple juice, and beer poured into an apple juice cup looks amazingly like -- apple juice.)

As I write this, I and my partner - Damon Farmer, of Versailles, Kentucky - are slightly better than halfway finished with this project. We are averaging 10 hours a day on the sand pile with extended lunch breaks. We have access to a golf cart which means we can easily tool all over the huge fair grounds looking for the best food booths -- I got corndogged out very early in the game.

After completing the top of the Drake tower, we split the pile pretty much in half and are each following our personal visions. The theme of this year's fair is "It's a winner!" so Damon is working on a sculpture of a judge bestowing a medal on a young girl and her prize-winning dragon. My side of the sculpture is much less cohesive, with random fair-related observations haphazardly appearing around its perimeter. Can I carve a ferris wheel out of this stuff? why not! and here is a happy family enjoying themselves, and a blues guitarist jamming out, and a menu board entitled "State Fare" ("Hey lady - you misspelled 'Fair'!" No I didn't. Damon mumbles "I think you have been hitting the apple juice too hard.")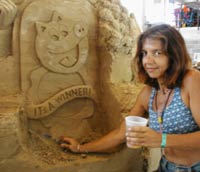 This project is like many others in that we are subjected to a constant barrage of questions: "what holds it together?", "when will you finish?", "where are you from?", etc. But by far the weirdest and most inexplicable question so far has been, "Do you have a picture of what it is going to look like?"
Not even in my head...
Sure. This is standard state fair sculpture number 28c, let me look through my files for a copy.

After a long day on the pile I return to my room, pour myself a glass of vino, check my e-mail and then fall asleep to the lulling images of the cartoon channel. I dream of SPI and the last gasps of summer and all the fun I am missing there. (Oh the life of glamour I lead on the road!) By the time you read this, I will be nearly done with this project and packing up my tools for the next sand pile which awaits me in Quebec City, Canada.

Keep my barstool warm at Kelly's; I will make it back there eventually...

---