Q. Hey! I a) saw you on Regis and Kelly in the Bahamas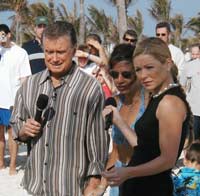 b.) heard you were on Regis and Kelly but was working and didn't get to see it… do you have a tape I can watch? I was just wondering, is Regis a.) a jerk? b.) as nice as he seems? And is Kelly a.) a little "hottie"? b.) as dumb as she seems? Did you say nice things about SPI? And were the other guest celebrities a.) friendly? b.) snooty? c.) as beautiful/funny as they appear on camera?

A. I have been getting a lot of these types of queries since returning from my Bahamian odyssey last month, so it seems appropriate to answer them all in one fell swoop.
First of all, I do indeed have a tape of all four shows in which I appeared, though it would seem that none of the people who have asked about it have any real interest in sitting through 4 hours of Regis and Kelly to catch maybe 10 minutes total of yours truly - because not one of them has actually made an effort to do so. Frankly, I don't blame them a bit.
Regis and Kelly were both friendly and polite enough, but understandably aloof. It was nice of them to invite me to their Monday night cocktail party in "Michael Jordon's Suite" to mingle with the celebs, but it would have been nicer if they'd remembered to include me on the official guest list so that I wouldn't have had to wait outside for 10 minutes while the doorman got clearance to let me in.
It took some doing, but yes, I did manage to get in a quick plug for South Padre Island.
I do not feel qualified to comment on Kelly's hotness factor, but I will say that Jennifer Love Hewitt is too skinny and pasty pale, though she does have cute little pearl-bedecked flowers painted on her toes. Howie Mandel is the coolest - as friendly as he is funny, and I got a very nice e-mail from him thanking me for the sand castle lesson I gave his 9-year-old daughter.
I think that about covers it - but if you are really interested, you can read the full report and see lots of photos right here. And that tape is still around here ….somewhere.

Q. I heard a rumor that the New Yorker Magazine printed an article about spring break on South Padre Island recently. I know you are a subscriber - did you get to see it? Was it fairly written?

A. I was happy to see the article in the April 1 New Yorker, but not too surprised by it. Back in Feb. of '01 I got an e-mail from the writer saying she had found me on the web and was wondering if I could meet with her and share some local insights. I of course said sure! -- but then never heard from her again. Now I know why.

In the article "Endless Spring - A Letter From South Padre Island", staff writer Rebecca Mead tags along with Chip and Josh, a couple of "professional spring breakers" and filmmakers who are on SPI for spring break 2001 to capture raw footage for a video entitled "Spring Break Uncensored." - part of the "Girls Gone Wild" genre of 'see how many girls will flash you if you point a camera at them."

The article is well written, and the provocative photo of a nearly naked girl smooching up a frat boy on the stage at Tequila Frog's will doubtless draw in plenty of readers. Even so, I was disappointed that the writer seemed far more interested in the filmmakers than in SPI - as far as I could tell, she didn't talk to a single local. However, she did draw some interesting conclusions about spring break, including the following analogy:

"…just as the fake breast is both visually persuasive and unmistakably inauthentic, so the mayhem of spring break is at once convincing and implausible… the disorder is surprisingly orderly; it's organized chaos, sponsored by Coke and Nair and the Chase Bank."

Of more interest to me was the interview with Ms. Mead I found posted on the web at newyorker.com. When asked what made her decide to go to SPI, she answers:

"South Padre is one of those weird, marginal American places-on the very edge of the country, practically in Mexico, barely connected to the mainland, beyond the end of the line. All of that was intriguing to me, more so than the established Florida resorts…."

I find this an apt description, and one might hope it would encourage some other writer to revisit the subject in a future article that focuses more on the town and its inhabitants. (Hey, we're pretty interesting!)

After getting too many whiney e-mails from late breakers bummed out because they were missing all of the concerts and other organized activities, her closing words really struck a chord with me:

"Chip, for one, is nostalgic for a time when students drew upon their own inner resources, instead of relying on event organizers hired by corporate sponsors to lay the fun on for them. Like most things, spring break isn't what it used to be, and it probably never was."