Dear sandy,
How lucky you are to live on beautiful South Padre Island! In addition to sandy beaches, swaying palms and gulf breezes you are just miles away from Mexico and all of its seductions. I bet you must travel down there a lot!
Well, sure I know my way around Matamoros pretty well.... um, Garcias anyway. And there was that media tour to Monterrey about 13 years ago, and --

Actually, that was pretty much it - until last week, anyway.

This month's column is directed at other pale scaredy cats like myself who never progressed beyond 3rd year high school Spanish and could only imagine the horrible things that could happen to them in deep dark Mexico because they don't speak the language and don't look or sound like they belong anywhere south of Grand Rapids. Thanks to Kelly Casey and other locals who travel south of the border on a regular basis, this stupid gringa screwed up enough courage to venture south - way south - and lived to tell about it.

And you can too.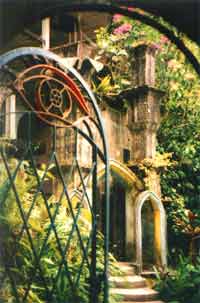 "Las Pozas" is a hard place to describe...