8/1 In case you have only a hazy grasp of Italy's geography, let me assure you that Trieste is _not on the way to Bari from Siena. If you are taking a bus around the northern end of the Adriatic to Croatia, then Trieste is indeed on the way. But if you are going the ferry route, then way-down-south Bari is a better bet and so there we were in Bari with nothing but time....

What to do?
Luckily, it was a relatively cool day, which only says that it took all the way until mid day for us to get hot and bothered. In the meantime, we found a cool, comfy internet cafe for an e-mail check (No, can't hook up the laptops.... the net connection is Windows so it won't work with Macs! You will be happy to learn that your brain-washing plan is succeeding in Bari, Mr. Gates!)

Actually, the gent running the place was quite pleasant - gave us a great lead on a local lunch spot and let us leave our luggage while chasing down English language books (our reading material was getting pretty thin - down to one old New Yorker, an equally old Atlantic Monthly and a positively ancient MacUser...) The beer (for Fred) and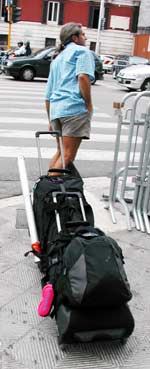 wine (for me... and Fred) put a rosy glow on the day. We retrieved our luggage and struck off into the maze of old city walls adjacent to the port. Fred devised a way to make all of our luggage follow him like a well-heeled puppy dog and the day stayed coolish.
Call it dumb luck or call it the Mallett nose but somehow we happened upon an unexpected castle - a friendly old local guy who welcomed us in, insisting we park our luggage behind the counter, and - in case that was not enough - a Modigliani and friends exhibition upstairs. And here's us with a whole afternoon to kill whatta shame, eh?