"Stepping Outside of Myself"
South Padre Island Sandcastle Days 2005
Location: South Padre Island, TX
Date: Oct., 2005
Category: Solo Masters
Place: 4th
Particulars: This is an extremely personal sculpture. The contest coincided with one of the lowest periods of my life, and this piece was a studied and deliberate attempt to pull myself out of the deep depression I had sunk into.
Sandsculpture as more than a hobby; more than a job. It's therapy.
It meant a lot to place with this piece.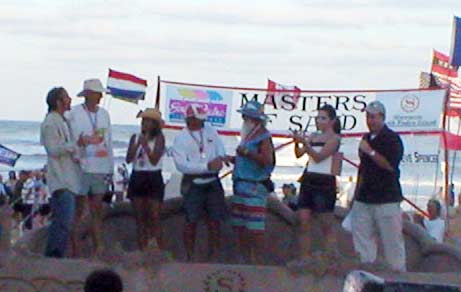 "All My Exes Win in Texas"
From Left: Carl Jara, 1st place (former partner); Kirk Rademaker, 5th place (boyfriend 1999-2001, 2006-?); Me, 4th place; Fred Mallett, 3rd place (boyfriend 2001-2005) and Amazin' Walter, 2nd place (boyfriend/husband 1985-1992)
This was the last year the SoBs were involved in the organization of the contest or the building of the demo sculpture... which means it is probably the last time I will carve the event logo.
Eighteen years of hard work does not even rate us a mention on the event website. Bastards.
(Obviously, my therapy is not yet fully complete.)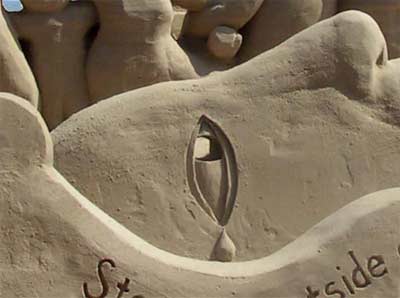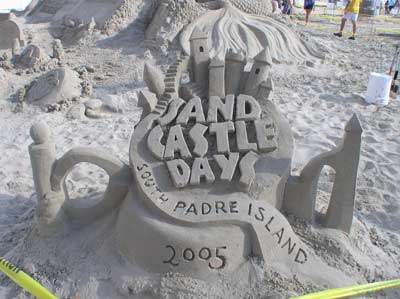 Many of these photos were taken by Adelaide - only one of a whole bunch of really good friends who helped me through this really difficult time.