I find myself mostly taking pictures of the dogs. There are many there and they lay around on the cool patches of marble in the shade snoozing. They mostly look underfed but content. It is hot and dusty but there are cool places where one can escape the rest of the tourists -- and the dogs of Pompeii seem to be very good at sniffing them out.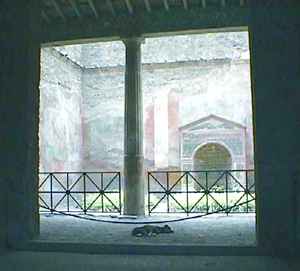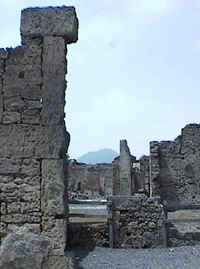 I think that is Mt. Vesuvious in the background.
Later that night over dinner, I attempt to explain to Paolo about my need to connect to the internet. He does not understand, so he goes to find his friend Carlo who speaks better English and is computer savvy. It seems that - particularly here in the southern part of the country - there are many people who have not yet heard of the net. I find this pretty amazing. At any rate, Carlo comes over and is able to tell me which phone number on my dial up wizard is a local call. We attempt to connect with Paolo's line but I get this weird beeping noise and do not hear the modem dialling. Carlo attempts to dial the number and says it is not a good one, but I am more concerned that I am not hearing the modem do its job. Carlo says he has an internet connection at his pizzeria, and that tomorrow we can try from there.