Salve Cesena
I think I am getting an early start (I get to the internal bus stop by 7:30) but it is almost not early enough. It is 9 before I get out of Positano and noon before I arrive in Naples. In Roma I get my tickets straight through to Cesena. The trip is fairly expensive (64.000 Lire) and I find that my assigned car - #5 - is the diner car and my seat does not exist. It is a long trip to Bologna where I swtch trains again - the last leg of my trip and I am impressed by the two teenage girls sitting across from me who have obviously just paid a visit to a book store: one is engrossed in Baudelaire, the other in Herman Hesse and they keep reading passages aloud to each other with great enthusiasm. I almost miss my stop but once made aware of my problem the two lit fans prove another pet theory of mine (that people who like books are generally nicer than everyone else) and scramble to help me get my luggage on the track before the train leaves again. I am deeply grateful.
I found my hotel easily, took a nice hot shower, touched base with Azzurra, tried connecting with no success and went to sleep early.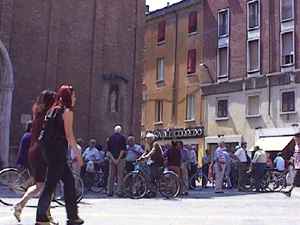 One of Cesena's squares just before siesta time. Lots of old men on bicycles - probably discussing politics as tomorrow is election day in Italy.