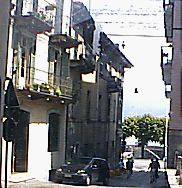 Upon our arrival in Stresa, we found a waterfront pub and ordered up a very expensive beer while Russell tried to contact Karen.
It was here that we were introduced to the intricacies of using Italian phones. To make a long story short - we were not able to get in touch with her that night. So we found a cheap room, shared a pizza and a small bottle of wine and called it a day. Russell went to her place of employment the next morning and were able to hook up with her (picture at left.)
Then it was back on the road for the drive through Milan and onto Jesolo.