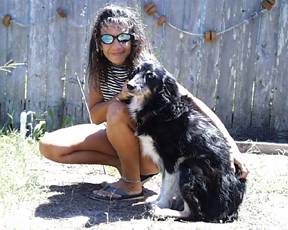 Phoebe's first day at sandy feet's beach retreat 8/25/98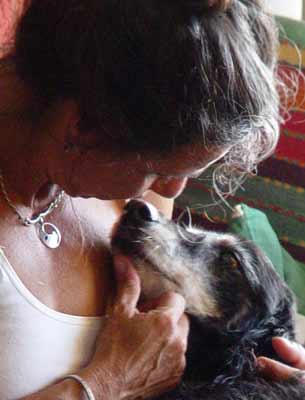 May 29, 2004
On 8/25/98 "Phoebe" moved out of the animal shelter and into and my heart. It truly was love at first sight on both sides and she slid into my daily routine with very little adjustment involved. Phoebe was one smart dog.

In 2001, while the bridge was down, she had her first encounter with what turned out to be vestibular disease. I thought she was having a stroke. The guy I had recently started dating managed to sweet talk our way to the front of the ferry line and helped me get her to the vet. Fred was that guy, and is was right about then that Wags, Phoebe and I decided we wanted to keep him around. All the time.

The morning walk on the beach was the highlight of Phoebe's day. Even after the second run-in with vestibular disease, when those old legs didn't work so well any more, she didn't want to be left behind. We bought her a wagon, but more often she ended up riding home like the queen she was, carefully cradled in Fred's arms.

Just about a week ago, I had a bad night. Feeling sad and weepy for no good reason. Phoebe heard me and followed me out of the room. She could barely walk, but she knew I needed a warm furry shoulder to cry on. I wish I had that shoulder right now.

On July 17, 2004, Wags, Fred, Phoebe and I watched our last sunset together. She passed away quietly and peacefully in my arms a few hours later.

I will miss her forever.

If Phoebe's story has moved you, please do something nice for your local animal shelter today. The people who work at those places are really and truly heros.