Have More Fun at the Beach Forever!


Click here to compare all the different lessons we offer!
Look what you can do after just 1.5 hours of sandcastle instruction from sandy feet! >>>>>>>>>>>>>>>>>

Multiple Instructors so whatever day/time you want, we can accommodate you. Just fill out our handy no-obligation lesson request form to get started.

Customizable in an endless number of ways with your name, logo, greeting, URL, etc.

All Tools Provided -- and we'll even leave you with a few so you can keep playing after we go.

Rates start as low as $40. We work with all ages, all skill levels and at all locations on South Padre Island!

Click Here to see detailed descriptions of every lesson we offer!
---
Vacation Rentals at the SandBox Inn
Drive/Ride/Stroll on by

and take a look at the constantly-evolving sand sculpture garden in the front yard of the SandBox Inn - 117 E. Saturn Lane, South Padre Island. This dog-friendly vacation rental is like nothing else on South Padre Island. Stay with sandy feet and get a free sandcastle lesson!

While you are out and about, you should hit the trail - the South Padre Island Sand Castle Trail!
Good News! Emerson the sandcastle guy will be back on the island in Mid-May to help you and your family/friends build the best sandcastle ever!
---
The perfect gift for the SPIslander who has everything (except a sandy feet original!)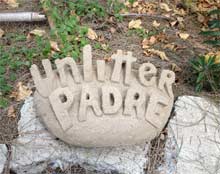 ---

---