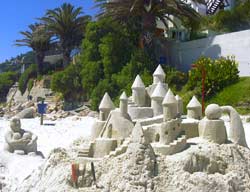 We worked on the sculpture for three days total. Myron developed some good building and carving skills and shows a lot of promise as a sand sculptor, while Eugene was a bit distracted by the surroundings -- Cape Town beaches have a very relaxed attitude toward topless sunbathing. Unfortunately, that relaxed attitude does not extend to sandcastlers: on our second day we were approached by the sand castle police. My sponsors had secured a permit and in fact were paying 500 rand (about $75) a day for the use of a very small piece of Clifton Beach. The misunderstanding was quickly cleared up but it had never even occurred to me before to be grateful to live on a beach where one can build a sand castle without a permit.
I was struck by the way everything is viewed in a political context. One interviewer asked me if I intended to work with the local empowerment agencies in any way (huh?) -- and my innocuous little spectator guy was widely interpreted to be Nelson Mandela during his years of imprisonment on Robin Island looking over his beloved homeland.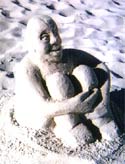 A good sand sculpture should tell a story and I sure don't have a problem with it telling that one.
Of course, sometimes a castle is just a castle and a spectator is just a spectator .
On Monday night, Roxy and Eugene took me to dinner at the Africa Cafe. The building itself is too cool - old and funky and recently declared a national monument. They serve something called "the communal meal" - sort of like Spanish tapas: Nineteen specialty items from all over Africa. Tuesday night I was treated to a powerboat ride out into the Atlantic and an off-shore view of Table Mountain - complete with a cloudy "table cloth."