updated 12/20/00

It is difficult not to draw comparisons between Cape Town and Aruba. First, I had only been home from Cape Town for a few days when I had to start packing for Aruba. Second, they were both settled by Holland and the Dutch influences are very evident. Third, they both have beautiful beaches -- and I really really love going to places that have beautiful beaches.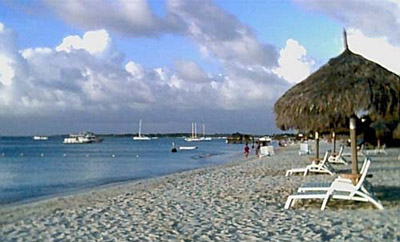 After that , the comparisons start breaking down. Of course my circumstances for visiting each country were different. I was a guest of Cape Town and since I was not getting a paycheck at the end, I think my hosts felt more obligated to make me feel welcomed. Aruba was more of a business proposition and I was very much left to my own devices. Aruba seems to attract a lot of couples, honeymooners and families which can be kind of a drag when you are a single female looking for a friend or two with whom to enjoy the scenery.
Another problem in Aruba was my inability to connect to the internet. This is the first country I have visited in my laptop-accompanied travels where I was unable to figure out a way to check my e-mail. I cannot remember the last time I went a whole week without checking my messages and it really left me feeling isolated and cut off from the world.
More tech notes: Cape Town was my first trip with the Green Machine - my new Key Lime Green iBook. Aruba was my first trip with the new JamCam - a very inexpensive digital camera acquired to make use of the Green Machine's USB port. (Since the GM has no pcmcia card slots and no serial port, the Ricoh is pretty much useless until I get home to my G3 powerbook.) Most of the photos in this trip report were shot with the JamCam. The quality is not high, but I am frankly amazed at what one can do with a $100 digital camera in the right circumstances.