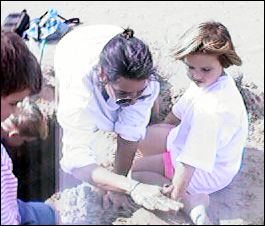 sandy feet is a retired high school English teacher with over 20 years of sandcastle instruction experience under her tool belt...

But these lessons are NOT just for kids! In fact, very young children have not yet developed the motor skills necessary for learning the relatively sophisticated SoB techniques of building. Parents need to take the lesson too, so when the child is old enough s/he can learn from mom and dad.
DESIGNED TO APPEAL TO "KIDS" OF ALL AGES
For about the same price as lunch at Mickey D's, you can learn how to build a better sandcastle and have more fun on the beach forever.
Schedule: Mondays, Wednesdays and Fridays at 3 PM starting May 31, 2010
Location: Beach Access #16 by Suntide II (Wave Stop #23) See map at right
Cost: $20 - children 7 and younger FREE (when accompanied by a paying adult)
Payment: Cash only. Meet and pay the instructor (s/he will be wearing a sandyfeet t-shirt and carrying a big shovel) on the beach walkover starting at 2:50. Please try to be prompt :)
Parking: There is a small public parking lot at access #16 but during peak season it can be very hard to find a spot. The WAVE is a free bus that runs up and down South Padre Island all day every day and is a great way to get around town!
Reservations: Are optional but would help us plan and also allow us to contact you if we need to cancel for any reason.