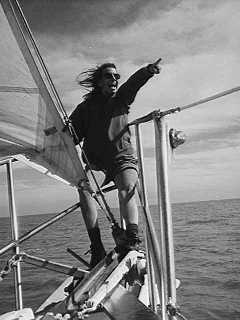 <Sandy Feet observes spring breaker antics from the bow pulpit of her friend Susan Moody's 47 foot ketch, Dream Ketcher
READ ANY GOOD LISTS, LATELY?
by sandy feet
I've noticed more and more lately that no one wants to take the time to read anymore; we want our information predigested and compacted into neat, bulleted columns. Thanks in part to David Letterman and the internet, we have become a nation of list-readers -- immune to subtle nuance, oblivious to the finer details, ignorant of the stories behind the numbers.
Having said that, I will proceed without further ado to "sandyfeet's arbitrary collection of spring break lists." Prepare to be enlightened!
I. Top Five Spring Break Myths
5. Your girlfriend/boyfriend back home will not mind you flirting a little bit while you're here
4. Warm beer and cold pizza for breakfast will go a long way towards helping you meet your daily nutritional requirements
3. An all-over body burn is the best way to kick off the tanning season
2. Dad will never notice that extra two grand you put on his VISA card
1. The individual with the best tan always wins the tan-line contest
II. The Five Stupidest Spring Breaker Tricks
5. Drinking and dancing in the back of a moving pickup
4. Meditating at sunrise in the middle of the causeway
3. Hijacking a beer delivery truck
2. Mistaking a police car for a taxi
1. Traveling from one condo to an adjacent condo via the outdoor balcony
III. The Five Worst Spring Break Pickup Lines
5. You remind me so much of my girlfriend back home.
4. You up for a moonlight cruise? My friend has this really cool 47' yacht she said I could borrow anytime I want...
3. Hey baby - you got some fries to go with that shake?
2. Are those things real?
1. If you are what you eat, I could be you tomorrow!
IV. The Top Five Reasons For Choosing SPI Over Other Spring Break Destinations
5. Proximity to Mexico
4. Kegs allowed on beach
3. Proximity to Texas
2. The unique blend of classes and cultures reflected in the local population
1. The cute guy in your physics class who mentioned he was coming here
See SPI from a local perspective! Learn how to build a better sand castles! Read other sandy feet columns! It's all in the SoB Sandcastle Page on the world wide web at http://www.sat.net/~sandyfeet -- check it out!

Back to SoB